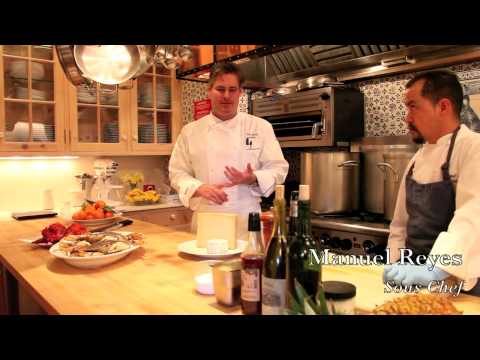 Last week, I interviewed with Tom Simoneau from our local news talk radio station, KSRO, for his Wine Minutes segment in honor of Valentine's Day. Here's a quick video discussing the Duck Confit recipe recommended to his listeners. The recipe, as well as a link to download it from our website, are included below. Wishing you all a Happy Valentine's Day from the entire Jordan family.
Duck Confit
Click here to view and download our recipe.
Ingredients:
1 Tbsp Sarawak black peppercorns
1 Tbsp coriander                                                                        
1 star anise
6 duck legs
3 Tbsp sea salt
2 bay leaves
1½ Tbsp Demerara sugar
5 sprigs of marjoram
10 sprigs of thyme
3 shallots, sliced
3 garlic cloves, crushed
5 cups duck fat
Directions:
Preheat oven to 200°.
In a small sauce pan over medium high heat, toast black peppercorns, coriander and star anise until fragrant. Set aside to cool.
In a large non-reactive bowl, combine duck legs, spices, sugar, herbs, shallots and garlic. Press mixture into duck. Tightly cover and marinate for 48 hours.
Carefully brush marinade from legs and lay them in an earthenware casserole or heavy, lidded 6 quart stock pot.
Melt duck fat and pour over duck legs to cover. Allow to cook gently until meat is easily pierced and nearly falls away from the bone, approximately 4 to 5 hours.
Remove duck and place in a storage container. Strain fat to cover completely and quickly cool over ice. Refrigerate and allow the confit to rest for a minimum of one week and up to one month.
To serve, render crisp in cast iron, or add to any risotto or cassoulet.
Serves 6