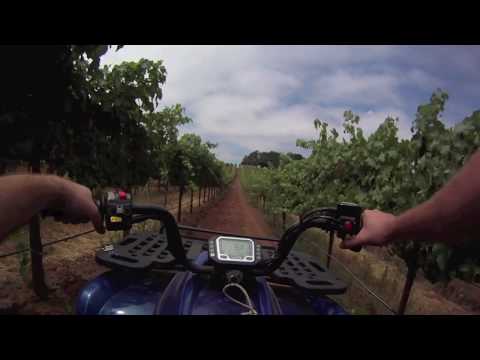 As a long-term member of the Sonoma Green Business Program, we are constantly looking for new ways to decrease our impact on the environment. Our latest project in viticulture & winemaking is the electric all-terrain vehicle (ATV), shown in above video.
Our first locally supplied electric four wheeler arrived last week. A prototype developed by eMotors Electric Vehicles in Sebastopol, Calif., the quad rides just like a typical gas-powered ATV but is much quieter and has a tremendous amount of torque. (Two years ago, we tested another model from Barefoot Motors of Ashland, Ore., which was too large for our usage. Barefoot now has a new model we may also consider test driving.)
During the summer months approaching harvest, I spend a lot of time at each of our estate vineyard blocks. (Great wine always starts with great grapes, they say.) I travel to each of our blocks on the 1,300-acre hillside property, getting status updates on grape growth from our vineyard management team. I also drive into rows to evaluate the recently completed leaf thinning work. Leaf thinning (our next blog post) helps to create the ideal microclimate grape clusters need this time of year to begin veraison and further develop flavors before harvest.
Three-quarters of the Jordan estate is natural habitat, so driving the electric ATV around the property has a feeling of tranquility to it with the low noise. Many of the rabbits and turkeys who usually scurry away long before I cross their paths now have a look of confusion on their faces when I drive up. When driving through the rows, I have to really slow down and be extremely careful not to hit the resident wildlife! The day we made the video, one rabbit trotted very slowly in front me, with no sense of urgency to get out of the way. (And I had no horn to alert him.) I looked down and realized the video camera had stopped recording!
As we all know, electric vehicle technology is in its infancy and constantly evolving. Fast. Who would have thought five years ago that Tesla and Toyota would be partnering to produce electric cars? Thus far, only a two-wheel drive version of the electric ATV is available locally. What we've learned during our winery electric vehicle experiment is this: climbing the steep hillsides our vines are planted to can be challenging without four-wheel drive. While we love this clean, green transportation, we are eager for it to be adapted to a four-wheel drive model.
The above virtual tour video of the estate vineyard blocks was recorded during my first ride on the electric ATV prototype.