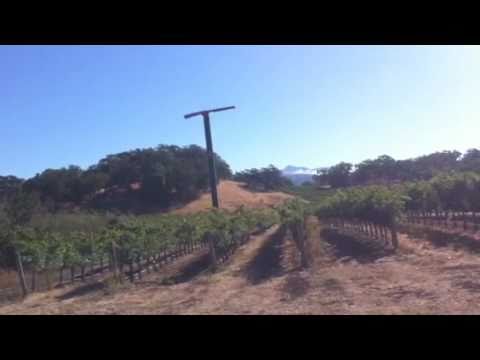 Weather forecasters reported that a storm would roll through Sonoma County wine country last weekend. Needless to say, we were concerned — but we were also prepared. Working in vineyards where nature and nurture go hand in hand requires constant attention and adaptability.
Thankfully, the storm broke up as it came inland, and the rainfall totals were MUCH less than predicted (only 0.07 inch fell in Alexander Valley). The weather today – warm temperatures around 80 degrees and sunny with a slight wind — has been perfect for drying out the vines and the soils and for keeping us on track with grape ripening. We did run the wind machines this morning (see above video) to dry out the vines a bit (both the clusters and the canopy had some moisture). If we have mornings with heavy fog and drizzle, we'll continue to run the machines until the fog breaks. Winemaker Rob Davis estimates harvest to be in full swing in our Russian River Valley vineyards in 10-14 days. (One lot of grapes was harvested on September 17 to commence our 35th harvest.)
Mother Nature is keeping us on our toes, as always. The vineyards are still looking really good.