A month before John Jordan's private Halloween bash, it's time to create new appetizers and drink cocktails for the party menu.  Todd and I always meet in the kitchen with our Sous Chef, Manuel, and spend the entire morning testing all the different recipes we've been brainstorming for months.
This year, we decided to capture some video footage while creating a few Halloween party ideas. I'll show you how to create a sleek floral arrangement with some useful tips if you can't find black roses or black vases. Todd and Manuel demonstrate a colorfully fun, yet elegant, roasted beet and Tsar Nicoulai caviar hors d'oeuvre in the two-part video that concludes with Todd and I mixing a seasonal artisan cocktail inspired by our garden and local mixologist Scott Beattie of Spoonbar.
Recipes for our Halloween party appetizer, A Bite of Glampire, and the Glamtini cocktail are included below our demonstration videos. We've also included the recipe for a crowd favorite, the Fangtastic Martini.
Halloween party floral arrangement: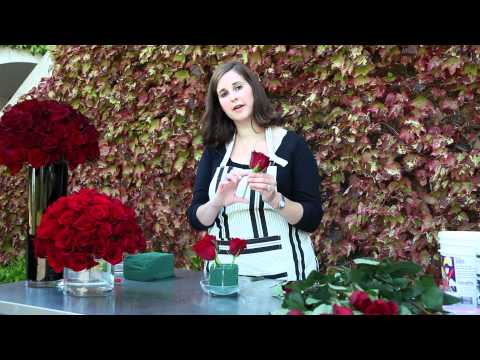 Halloween party appetizer and cocktail: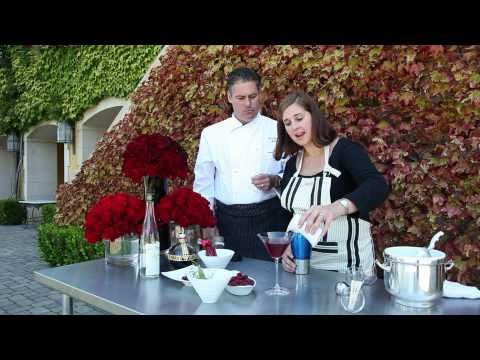 Glamtini
Ingredients:
1 ½ cup raspberries, pureed and strained of seeds
1 ounce corn syrup
¼ teaspoon red icing color
1 ounce Vodka
2 ounces Chambord
4 ounces brut rosé sparkling wine or Champagne
4 each Griottines (Morello cherries in Kirsch liqueur)
1 sprig lemon verbena
2 each star anise
Preparation:
Chill two martini glasses. Combine raspberry puree, corn syrup and food coloring to create "blood". Place one star anise in bottom of each glass. Spoon two tablespoons of the "blood" over the star anise. In a shaker with ice, combine Vodka and Chambord. Shake and then strain over "blood". Finish with Rosé Champagne and garnish with Griottines and lemon verbena.
Serves 2.
Fangtastic Martini
Ingredients:
2 ounce Absolut Citron Vodka
3 ounces Hpnotiq
4 ounces sweet and sour (or Margarita) mix
2 fresh orange half wheels
2 lemon twists
Preparation:
Chill two martini glasses. In a shaker with ice, squeeze orange half wheel over ice and drop rind into shaker. (Muddling orange optional.) Fill shaker with Absolut Citron, Hpnotiq, and sweet and sour mix. Shake and then strain into glasses. Discard ice and orange rind. Garnish with lemon twists.
Serves 2.
A Bite of Glampire
Ingredients:
• 2 each medium-sized red beets, unpeeled
• 2 each sprigs of thyme
• 1 tablespoon Jordan Extra Virgin Olive Oil
• 2 teaspoons sel gris
• 1 teaspoon freshly ground black pepper
• ¼ cup seasoned rice wine vinegar
• 2 ounces Osetra caviar
• 2 ounces Golden trout roe
• 2 each scallions, thinly sliced
• 18 each 1 ¼" round of pumpernickel bread or, alternatively, buckwheat blini
• 18 each leaves from the heart of the celery to garnish
Preparation:
Preheat oven to 375˚. Toss beets with the thyme, olive oil, sel gris and pepper. Wrap beets in foil, place packet in a small sauté pan and roast until they are easily pierced with a pairing knife. (Approximately 45 to 60 minutes). Allow beets to cool to room temperature and cut into ¼ inch diamonds. Pickle diamonds in rice wine vinegar for 15 to 30 minutes, tasting for acidity level often. In a non-reactive bowl, carefully combine six tablespoons of the beets, the caviar, Golden trout roe and scallions. Spoon mixture over base and garnish with delicate leaves of celery.
Serves 6 (two pieces each).