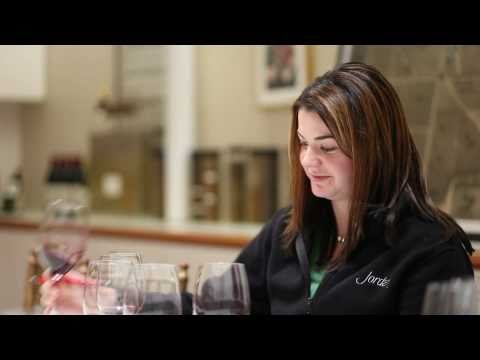 Every fall, we begin the meticulous process of selecting oak barrels for our youngest vintage of Cabernet Sauvignon. Unlike many wineries, we don't follow a recipe for which types of barrels we purchase each year. Barrel selection decisions–from country of origin (French or American) and forest source, to cooperage, toast level and even age of barrel–are based entirely on taste.
We start first with tasting tank samples of newborn wines during fermentation. This gives us initial impressions of the wine's fruit, as well as tannin, profile. But we also must ensure that the types of barrels we love for aging our Cabernet are still meeting our standards. That's where blind tastings play a critical role. Blind tasting two vintages of Jordan Cabernet allows us to evaluate our coopers without bias. Our blind tasting rankings are evaluated against our perceptions on the 2010 tank samples to determine the final barrel order. Cooperages are surprised that we reassess the quality of their product every year. We think it keeps them on their toes.
Choosing barrels for the 2010 vintage was a blast. The sensational fruit intensity and tannic backbone of this vintage led us to use a larger percentage of French oak. French oak actually mollifies the sterner character of our Cabernet, providing a round, soft, complex finish. As soon as Rob tasted the first tank sample of 2010 Cabernet, he said, "I can't wait to put this in a bottle." Me too. Now we just have to wait two years.
Watch how wine barrels are made here.