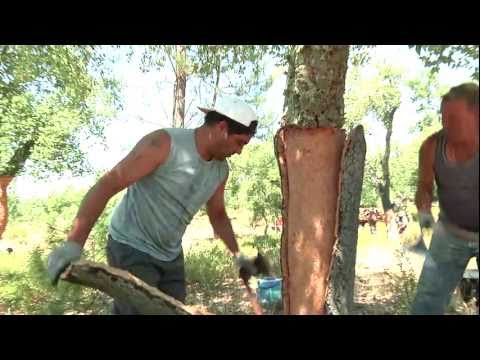 I guess you could say all winemakers are "cork dorks," but since my job also entails overseeing the bottling of our wines every June, I must confess that I'm also a dork about the corks that go into Jordan wine. (Or as Rob likes to call me, The Cork Czar.)
Our first bottles of 2009 Jordan Cabernet Sauvignon were sealed with 100-percent natural corks today, and before a single bottle is filled with our latest vintage, we dedicate nearly six weeks to preparing our newborn wine–and our corks–for this moment. We're very meticulous about the quality control of corks, using only the top grade of corks made in Portugal and employing rigorous quality control measures before every cork finds its new home in a bottle of Jordan Chardonnay or Cabernet Sauvignon.
Before studying winemaking in college, I had no idea cork trees lived up to 250 years–and trees were not harvested for wine corks until they reached 40 years of age. Once you've watched a worker harvest bark from a cork tree, you'll have a newfound respect for their industry.
We take every precaution and quality measure available to combat the possibility of a cork taint affecting a bottle of our wine.  A flawed wine, which has a muted or musty nose and flavors, will often be called "corked" even when the cork is not the culprit of the taint. Cork taint can also come from wine barrels, for example. Cork taint is one of those non-harmful, yet frustrating things that happens when you are dealing with natural, agricultural products. Both wine and corks come from living, breathing plants. Alas, we still want every bottle of Jordan to taste exactly how we intended.
In this video, I discuss how cork is sustainably harvested from forests without cutting down the trees. It's truly a remarkable, renewable process in our increasingly carbon-footprint conscious world. How wine corks are made is also highlighted, as well as the many quality control steps that go into ensuring Jordan wines are closed with the best corks in the world. The cork harvest and production video footage was provided to us courtesy of 100PercentCork.org. But I'm sure Lisa would jump at the chance to come to Portugal with me next time to capture scenes from a cork harvest.