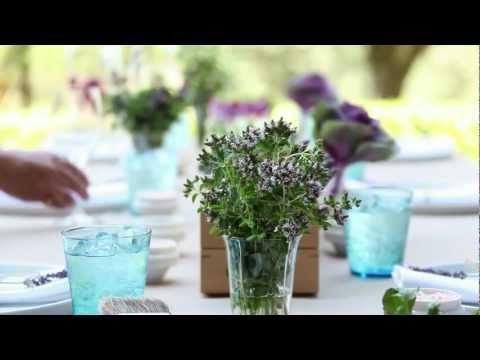 Summer is my favorite season because it makes throwing dinner parties so easy. Step into a garden or farmer's market, and you have all the inspiration (and ingredients) you'll need to entertain guests outdoors in wine country style. One of my newest table decor ideas is the edible centerpiece–a simple, elegant design that doubles as a healthy, colorful first course. Our friends at Taste of Home magazine recommend it for Labor Day weekend parties.
Combining Chef Todd Knoll's roots in Asian cooking and garden-fresh vegetables, the edible centerpiece incorporates Japanese bento boxes as a display feature. (Our favorite bento boxes, made by Kiwami, can be purchased for about $40 at Korin.com.) Communal bentos also make dining more interactive and conversational.
Because you won't be laboring over the stove when guests arrive, you'll have plenty of time to chat with your friends and family at the table. Fresh veggies, such as red peppers, endive, cauliflower, zucchini and baby carrots, can be served with extra virgin olive oil and zesty, simple dips, such as my own Greek Goddess Dip (recipe below).
Watch this video to learn how to create your own edible centerpiece. Tips for advance preparation and keeping vegetables fresh overnight are also included.
Greek Goddess Dip
Ingredients:
3/4 c. Plain Greek yogurt
1/4 c. sour cream
1/4 c. chopped parsley leaves
1 tbsp. shredded (chiffonade) mint
1 tbsp. chopped dill
1/2 tsp. crumbled dried leaf oregano
1 tbsp. fresh lemon juice
1 tbsp. drained chopped capers
Salt and pepper to taste
Drizzle of olive oil (as a garnish, just before serving)
Preparation:
Whisk together yogurt, sour cream, all herbs, lemon juice and capers in a bowl.
Season, cover and refrigerate until ready to serve.