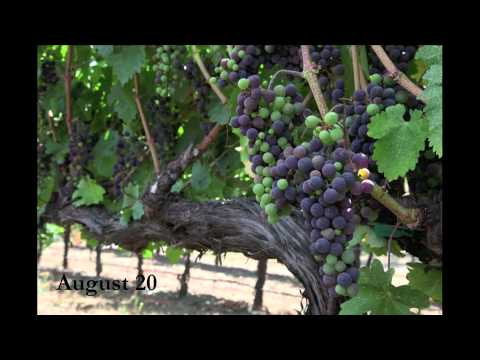 Veraison, the onset of ripening, finally began in our estate Cabernet Sauvignon grapes in mid-August. We decided to make a time-lapse video so you could see how long the grapes took to change from green to red. Our Canon 5D camera stayed in the vineyard during daylight and snapped photos every few hours with a remote control timer. Because we had to move the tripod for the vineyard crew's ATV, you'll notice a few changes in shot composition throughout the video. You even get to see the result of veraison thinning at 0:43.
There's much more to veraison than the color change we can see with our eyes. The grapes officially stop growing during this period of their lives. Grapevines begin focusing all their energy into the existing clusters hanging on their shoots, which allows sugars to increase sugars and acids to decrease. As a general rule, once  grapes complete veraison, they will be ripe and ready to harvest in about six weeks. Veraison typically takes 5-7 days to complete. You'll notice in this video it took twice as long this year.
Two years in a row, we've experienced a fairly cool summer in Sonoma County. Most days, temperatures have hovered around 10 degrees below normal. The sparkling wine harvest just kicked off in neighboring Napa Valley this week–the latest harvest on record for one bubbly producer. Temperatures are finally climbing this holiday weekend–and welcomed with open arms–as long as it doesn't get too hot and potentially sunburn the grapes.
I visited a few of our Alexander Valley vineyards with Winemaker Rob Davis yesterday, and he said that if warm weather prevails in September and October, we could begin picking Cabernet Sauvignon the first week of October.
So, the countdown is on. Experience the excitement of the season through our blog and Facebook page. We'll be posting photos and videos as soon as harvest begins.
Capturing veraison on camera was a fun experiment for our first attempt at time lapse photography. What would you like to see us time lapse next?