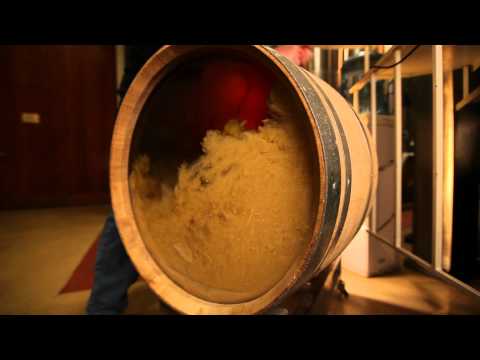 Have you ever wanted to see what happens inside a wine barrel? You're not alone. Last summer, our Guest Services staff asked us if it would be possible to create a special see-through barrel, so trade tour and tasting guests could get an inside look at the old-world winemaking art of batonnage. I worked with one of our local cooperages to create Jordan's first demonstration barrel, available for viewing during our 3 p.m. private trade tours from October through April, when our youngest vintage of Chardonnay is aging in barrel.
Batonnage, or stirring of the lees, is practiced for every vintage of Jordan Chardonnay. By hand-stirring the lees, we release compounds from the dying yeast cells into the wine, which contribute to a creamy, smoother mouthfeel. These compounds help to integrate the oak flavors into the wine and soften the oak tannins.
One of our most popular video blog posts of 2011 describes batonnage in detail.