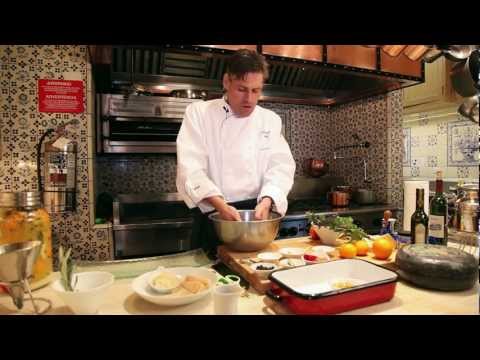 When entertaining at home, one of my favorite appetizers to serve at dinner parties is aged goat cheese marinated with Jordan Extra Virgin Olive Oil, seasonal citrus, spices and fresh herbs. This recipe is easy to make and has a very elegant presentation; it can be made a day in advance to save time, and choice of citrus can be adapted to any season.
I love to use blood-red oranges during the winter because the citrus flavor brings out an orange nuance in the olive oil, while summer kumquat will highlight the natural acidity in the cheese. A local favorite in Northern California, Cypress Grove Midnight Moon is my go-to goat cheese for this dish because of its subtle flavors, but Manchego makes for an intriguing substitute. The stone-fruit flavors and elegant mouthfeel of Jordan Chardonnay complement the acidity in both the fresh fruit and the goat cheese.
Recipe: Marinated Goat Cheese with Citrus, Olive Oil and Herbs
Summary: One of my favorite appetizers to serve at dinner parties, this flavorful cheese course can be adapted year-round by changing citrus with the seasons.
Ingredients ~
¼ pound aged Cypress Grove Midnight Moon goat cheese (Manchego may be substituted)
4 broadly peeled rind pieces of one blood orange, pith removed (any seasonal citrus)
4 broadly peeled rind pieces of one Meyer lemon, pith removed
10 whole black peppercorns
5 whole white peppercorns
1 cup candied Kumquats, halved (2 Tbsp of English marmalade may be substituted)
One blood orange, peeled and divided into segments (any seasonal citrus with minimal seeds may be substituted)
6 sprigs of thyme
2-4 Turkish bay leaves, whole (California bay may be substituted)
¼ cup Jordan Extra Virgin Olive Oil
Fleur de sel to taste
Instructions ~
Slice cheese into 1/8-inch thick triangles.
Use a vegetable peeler to broadly peel citrus rinds (approximate length: 2-3 inches).
In a nonreactive bowl, combine sliced cheese with orange and lemon rinds, black and white peppercorns, marmalade or kumquats, 8 blood orange segments, 4 thyme sprigs and bay leaves.
Add Jordan Extra Virgin Olive Oil and gently toss.
Cover and set aside to marinate at room temperature for eight hours or in a refrigerator a minimum of 24 hours (or up to three days).
To finish the plate, bring the cheese marinade up to room temperature 45 minutes before your dinner party.
Toss gently again in same bowl to refresh ingredients.
Arrange the cheese slices and marinade naturally on a platter.
Top with a few more citrus rinds that have not been marinated.
Drizzle with additional olive oil.
Garnish with a few fresh thyme sprigs and fleur de sel to taste.
Preparation time: 30 minute(s)
You can also download or print this recipe from the Culinary section of our website, which features 40 of my favorite seasonal recipes.