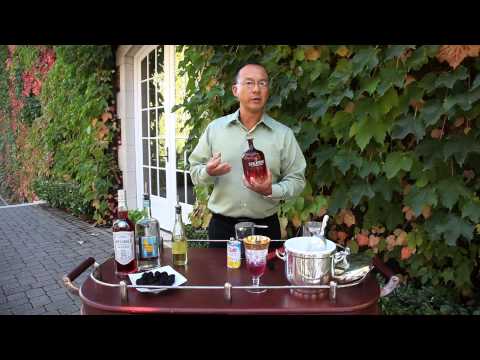 John Jordan has become notorious for his annual Halloween at Jordan costume parties, hosted each October for members of the restaurant and retail wine trade, as well as press. This year's event was dubbed Festivus Maximus–a tribute to warriors, gladiators and goddesses of ancient Roman times. Estate Sommelier Pete Yen creates specialty cocktails to complement each year's party theme, and we've included a crowd favorite cocktail from last weekend's event below. Happy Halloween!
Recipe: Neptune's Demise
Ingredients ~
Mount Gay Silver Rum
Fresh blackberries
Solerno Blood Orange Liqueur
Pineapple juice
Mint-infused simple syrup (regular simple syrup may be substituted)
Fresh mint for garnish
Instructions ~
Place three fresh blackberries in strainer or glass. Add 2 oz. (1 part) of rum and muddle.
Fill Collins glass with ice.
Strain muddled blackberry-infused rum into Collins glass. Discard seeds/pulp. *
Add 1 oz. (1/2 part) Solerno liqueur and a drizzle (1/4 part) of mint-infused simple syrup. **
Fill with 4 oz. pineapple juice (about 3 parts).
Garnish with mint sprig.
* Note: Blackberry-infused rum can be made five days in advance with one 750ml bottle and one 6-oz. package of fresh blackberries. Watch a demonstration video by DIY Network here.
** Note: Mint-infused simple syrup recipe is described in the above video.
Preparation time: 5 minute(s)
Number of servings (yield): 1