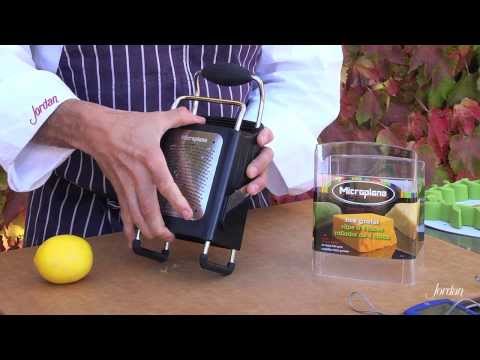 Looking for gifts for cooks this time of year? As a chef, I love gifting friends and family cooking tools. It's an opportunity to share the latest kitchen gadgets that I've tested out–and even get ideas for cool equipment I want to add to the Jordan Winery pantry. Seven of the best, affordable kitchen gadgets on my shopping list are featured in the above video, and here's a brief overview of each and where to buy.
The Prepara Roasting Laurel ($25) promotes air circulation for even roasting and is heat resistant to 500 degrees. It takes the form of whatever you are roasting and is BPA free and dishwasher safe. Available at Prepara's website or Amazon.
The Microplane box grater ($30) has a removable microplane panel and is dishwasher safe. Available at Amazon.
ThermoWorks ChefAlarm ($59) is accurate, splash proof and has a 700-degree max temperature. It will even alert you–at 92 decibels–when you have reached your desired temperature. Available at ThermoWorks.com. ThermoWorks Extra Big and Loud Timer ($29) is also highly recommended and available on ThermoWorks.com or Amazon.
The Global Utility Knife ($55) is a great go-to knife for a variety of users and hand sizes. Available on Amazon.
The Drosselmeyer Nutcracker ($40) is machined in Sweden and cast in zinc. It's called the world's first double-level action nutcracker. Available on Amazon.
The Rosle Fine Tongs ($30) are stainless steel and used in the final plating. Available on Amazon.
Happy cooking and happy shopping.